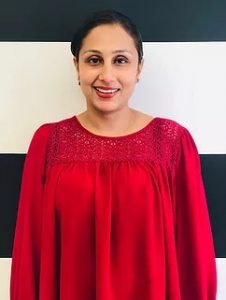 Dr. Shruti Tandon offers provides customized, patient-centered dental care for individuals and families. Her attention to detail, her gentle touch and genuine care for every patient she sees are hallmarks of her practice. Dr. Tandon believes in utilizing innovative dental technology to enhance the quality and safety of every visit and to provide all of her patients with an outstanding experience.
A graduate of the University of Chicago, Dr. Tandon resided in North Carolina and New Jersey before moving to California with her family. She has been private practice for over ten years. She and her team are well-versed in leading edge treatment practices and technology and she continues to pursue continuing education to augment her knowledge base and skill-set. She has been recognized several times for her work in dentistry.
Dr. Tandon is dedicated to a patient-centered approach to her work and makes empathy and integrity the foundations of her practice. She always takes the time to talk with her patients and explain their treatment options to help them make the best decisions for their smiles. In addition to her private practice, Dr. Tandon also serves her community by participating in dental camps for the underserved people in our community.
When she is not seeing patients, Dr. Tandon looks forward to spending time with her husband and two boys. She is fond of traveling and dancing and she enjoys the great outdoors.
Dr. Tandon is associated with the following organizations: